Eftersom man inte kan vinna något om man inte är med och tävlar deltar jag i ännu en utlottning.
Denna gång är det ett vårigt paket som innehåller 1 stämpel från Lili of the vally, körbärsblommor, rosor i flera storlekar, blad i olika varianter,
halvpärlor, eyelets, pappersband/tjockare floss, bokstavsstickers. Kolla vad härligt det ser ut!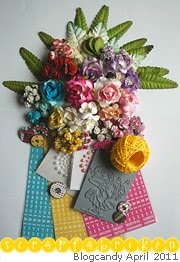 Att dekorera med hjälp av pappersfloss är något jag har varit sugen på länge så jag hoppas så klart på vinst denna gång.
Man kan vara med och tävla till den 30 april. (klickar ni på bilden kan ni också vara med och tävla)
/ Karin - Kstar